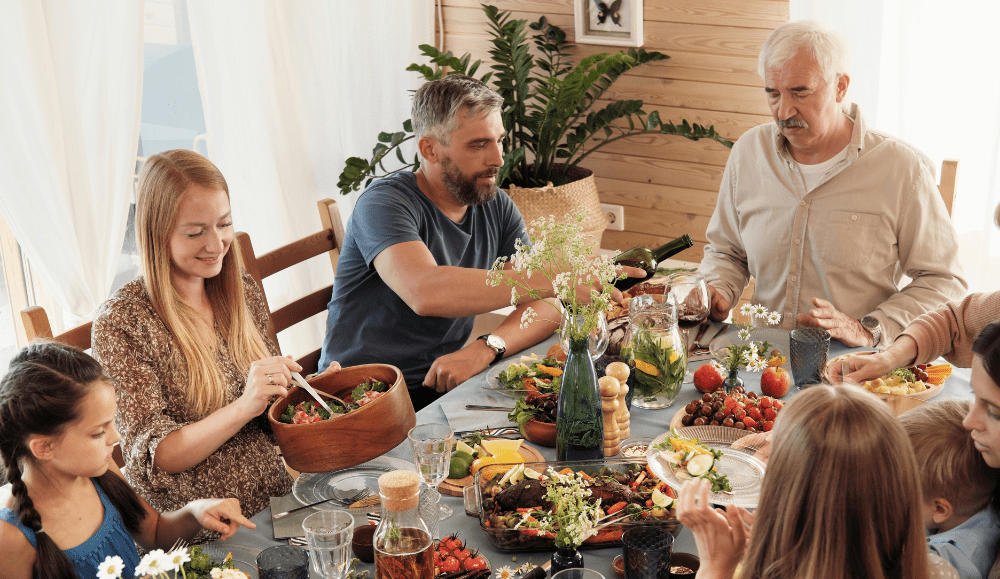 You've finally found a nutrition plan that works for you, the only problem is, it may not "work" for everyone else around you. Maybe you come from a family with Sunday pasta nights, or annual pig roasts, or your friends like to eat out at restaurants with limited options on the menu. Whenever your social gatherings involve food and you've made a nutritional change in your life, you might raise some eyebrows. We've pulled together ways for you to approach this criticism. Check it out!
If you've got a new regimen going, whether it's medically or personally motivated, you might want support from your loved ones or you might want them to just ignore it. And still, they may put the spotlight on your food choices anyway. To help combat that, try directing the conversation elsewhere. There are SO many other things to chat about, after all – the newest season of Stranger Things!?
If it's a persistent friend or family member who just won't budge, perhaps it's time to set a more solid boundary. When someone presses on with questions, as long as it's applicable to you, reply with something like:
-I'm working on creating a new relationship with nutrition and food.
-I'd rather talk about something else with you today to enjoy our time together.
-I'm declining to answer you because it's uncomfortable for me to talk about.
-I'm glad you're interested in this and I'd like to talk with you about it sometime, but not right now.
-It's something that's very new in my life but that doesn't make it any less important. I'm sticking to it.
When we're around criticism, boundaries are key. Sometimes a boundary is verbal like one of the statements above and sometimes a boundary is physical space. It may be helpful for you to be intentional about who you're spending time with and when. And when you're going to be with a group of people where criticism is present, give yourself small breaks every now and then. Take a moment to seek out someone who's cheering you on, too.
It may be time to wonder if this criticism is even about you at all. Perhaps it's more to do with a tradition being distorted. Maybe it doesn't have to do with the generations of Grammy's casserole at all. Maybe the family member or friend asking you about your eating habits genuinely doesn't understand. Sometimes a lack of knowledge on a subject comes out as disapproval. If you treat it as curiosity, it may open up a more productive conversation for both of you.
LIKE THIS CONTENT?
Subscribe to our Newsletter and our Social Media pages and get an alert when new content is available!
LOCATIONS
Stamford, CT
37 Glenbrook Road, Suite 3
Norwalk, CT
148 East Avenue, Suite 2A
FLEXIBLE HOURS
Regardless of your schedule, we can find times that work for you.
CAN'T COME INTO THE OFFICE?
CONTACT US
 (203) 693-4917