Meet Mataya!
Provider of the Month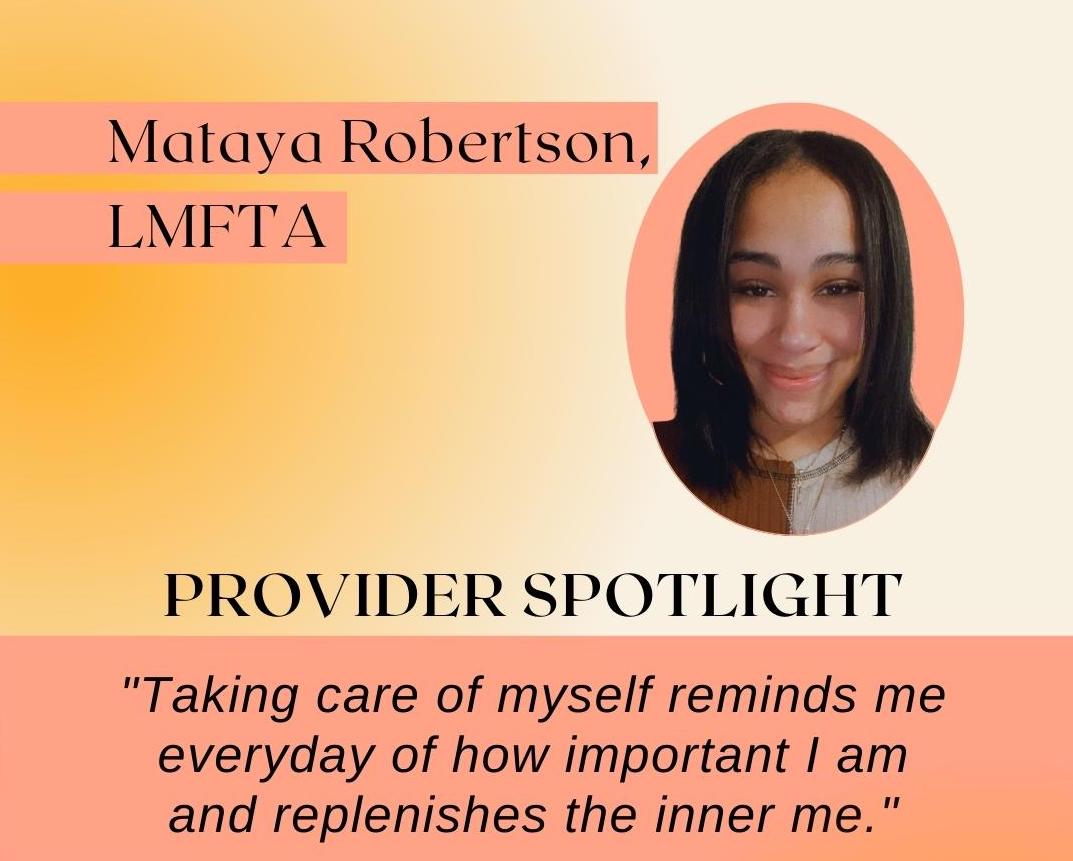 Meet our Provider of the Month, Mataya Robertson, LMFTA!
Mataya has experience working with diverse individuals, families and couples struggling with relationship dynamics, identity, self-awareness, confidence and life transitions. It is Mataya's belief, that building an authentic relationship with clients is the foundation to healing. Mataya's approach is direct and collaborative, which works great in holding clients accountable throughout their therapeutic  journey. She incorporates warmth, compassion and humor into her work, aiming to create an open, engaging space to explore problems, curiosities and reflection. Mataya finds value in using clients' past and present experiences to create a treatment plan. Mataya doesn't believe in one size fits all, tailoring to each clients needs by using different therapeutic models to set attainable goals.
Q: What kinds of physical self-care do you engage in? Emotional self-care? Mental self-care?
MR: Going to therapy myself is always a priority. I love cooking different meals for everyone because I'm able to show off my creativity. Good food makes people feel good and that's one way I show my love for people. I blast music as I clean and cook to get me in the zone.
Q: What do you like about being a therapist?
MR: Being a therapist gives me the opportunity to create a safe space for someone who not only needs it but deserves it. Clients putting their trust in me, drives me to show up as the best therapist I can be.
Q: What do you like about working at Revive?
MR: I knew I loved Revive the moment I felt none of my questions and/or concerns were insignificant. Revive makes me feel like an equal amongst my peers. Although everyone is different, you can tell how much thought went into hand picking each member of Revive. With a room full of US, the chemistry is natural and the sense of belonging is always present.
Q: What books, or movies, or tv shows, or podcasts do you like or recommend?
MR: I love the show called "I Survived" and "Divorce Court"
Q: How would you describe your style as a therapist?
MR: Building a strong rapport with my clients is the most important part of healing because it promotes honesty and comfortability. I am collaborative and direct with my clients, which works great in holding my clients accountable throughout their journey.
Q: In the month of February, we're talking about wellness and what it means to take care of yourself (your finances (career, education), your health (physical, nutrition, cooking), your environment (relationships, Homelife, social life), your mental/emotional wellness (joy, spirituality, creativity))–>why do you think it's important to take care of yourself and how does it influence how you feel about yourself as a whole?
MR: I can never show up my best self, without catering to my needs and things that make me feel good. Taking care of myself reminds me everyday of how important I am and replenishes the inner me.
Stay Well,
Catherine at Revive
LIKE THIS CONTENT?
Subscribe to our Newsletter and our Social Media pages and get an alert when new content is available!
LOCATIONS
Stamford, CT 37 Glenbrook Road, Suite 3
Norwalk, CT 148 East Avenue, Suite 2A
Miami, FL 1110 Brickell Avenue, Suite 502
FLEXIBLE HOURS
Regardless of your schedule, we can find times that work for you.
CAN'T COME INTO THE OFFICE?
CONTACT US
 (203) 693-4917