Meet Nikki! Provider of the Month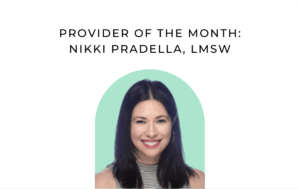 Meet our provider of the month!
Nicole earned her Bachelor's degree in psychology from the University of Connecticut. After gaining professional experience in the corporate marketing world Nicole attended Fordham University to pursue her passion for helping others, earning her Master's in Social Work. Nicole has experience supporting students' social emotional needs within the school system as well as providing therapy to adolescents and adults in an outpatient behavioral health clinic. Nicole has provided psychotherapy to individuals, couples and families, taking an integrated, holistic approach that recognizes the many factors that contribute to an individual's wellness. Nicole leverages a variety of treatment modalities to best suit a client's needs including Cognitive Behavioral Therapy and mindfulness-based practices. She always seeks to meet clients where they are with an emphasis on trust, non-judgmental warmth, empathy and humor.
Q: What do you like about being a therapist?
NP: What I appreciate about being a therapist is having the opportunity and privilege to hold space for clients and listen to their stories. Every human experience and relationship is unique, and the therapeutic role is dynamic and challenging, increasing my need to always reflect and improve.
Q:What are your wellness essentials?
NP:I use lavender essential oil dabbed on the sheet before bed, vitamin-c face serum and matcha green tea.
Q:What do you like about working at Revive?
NP:Revive has a warm, welcoming and open community of clinicians who support one another.  Revive's emphasis on self-care and clinician support helps me avoid burnout so that I can best support clients and grow as a clinician and individual.
Q:What are your sleeping habits like? If you want to change them, what would you like to learn when it comes to sleep?
NP:As soon as I lose sleep, I notice a shift in my well-being.  I use an amber light bulb in my lamp, and I also use very NON FASHIONABLE blue light blocking glasses.  I don't have a TV in my bedroom, which helps me wind down at night, however, I'd like to learn how to avoid looking at my phone before going to sleep.
Q:What is your go-to self-care?
NP:Exercise, going for long walks and getting grounded in nature, eating healthy whole foods, snuggling with my tuxie cat and sleeping!
Stay Well,
Catherine at Revive
LIKE THIS CONTENT?
Subscribe to our Newsletter and our Social Media pages and get an alert when new content is available!
LOCATIONS
Stamford, CT
37 Glenbrook Road, Suite 3
Norwalk, CT
148 East Avenue, Suite 2A
FLEXIBLE HOURS
Regardless of your schedule, we can find times that work for you.
CAN'T COME INTO THE OFFICE?
CONTACT US
 (203) 693-4917