"Self-Care is Selfish!"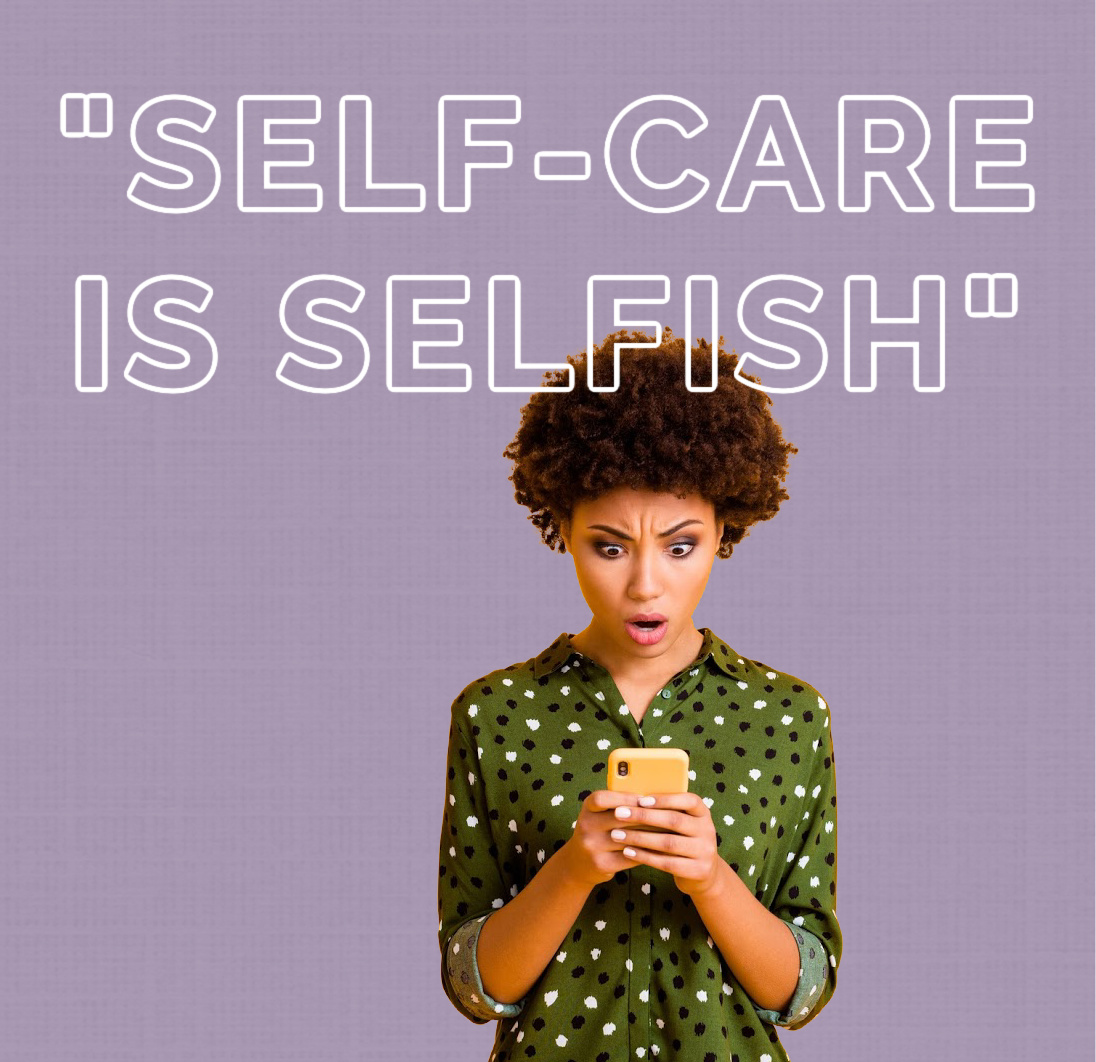 Self-care can mean a lot of things. It can mean taking a beach vacation. It can also mean engaging in a favorite hobby. Either way, practicing it is a component of self-love (see: "Try These 3 Things to Love Yourself More"). When we practice self-care, we pay attention to what we need, so we're better able to show up in other parts of our days.
A common myth of self-care is that it's selfish. The truth is, it's far from it. Although giving yourself some "me time" appears to have a lot of "me" in it, it's really a way for you to be more present around others. Still not buying it? Think about those times you're more irritable than usual. The people around you experience that, too. What self-care can provide is an avenue for you to take a time out so that you're your best self around the people you love.
If it's so necessary, why are there so many barriers to it? "But, I don't have time for self-care…" is a pretty common one. Unfortunately, we can't create more time (technically), but what we can do is use the time we have differently. For some, that does mean getting out of bed a few minutes earlier to perform a desired skin care routine. For others, that may mean hitting snooze a few more times to give yourself some needed rest. It all depends on what you need and being mindful of that is part of the process!
If you're new to self-care or you just want to exercise your self-care muscle a little differently, you may be wondering "how?" Below is a list of some of our favorite self-care practices. Also, you can download your very own self-care plan HERE. Want more self-care? Head to our Instagram account and check out our "Self-Care" Highlight!
Practicing gratitude

Going for a walk

Planning my day

Taking a real lunch break

Going to therapy

Drinking more water

Going outside

Spending quality time with my partner or friends

Getting a workout in

Doing some deep breathing
Stay Well,
Catherine at Revive
LIKE THIS CONTENT?
Subscribe to our Newsletter and our Social Media pages and get an alert when new content is available!
LOCATIONS
Stamford, CT 37 Glenbrook Road, Suite 3
Norwalk, CT 148 East Avenue, Suite 2A
Miami, FL 1110 Brickell Avenue, Suite 502
FLEXIBLE HOURS
Regardless of your schedule, we can find times that work for you.
CAN'T COME INTO THE OFFICE?
CONTACT US
 (203) 693-4917