This is What a Mindful Workout Looks Like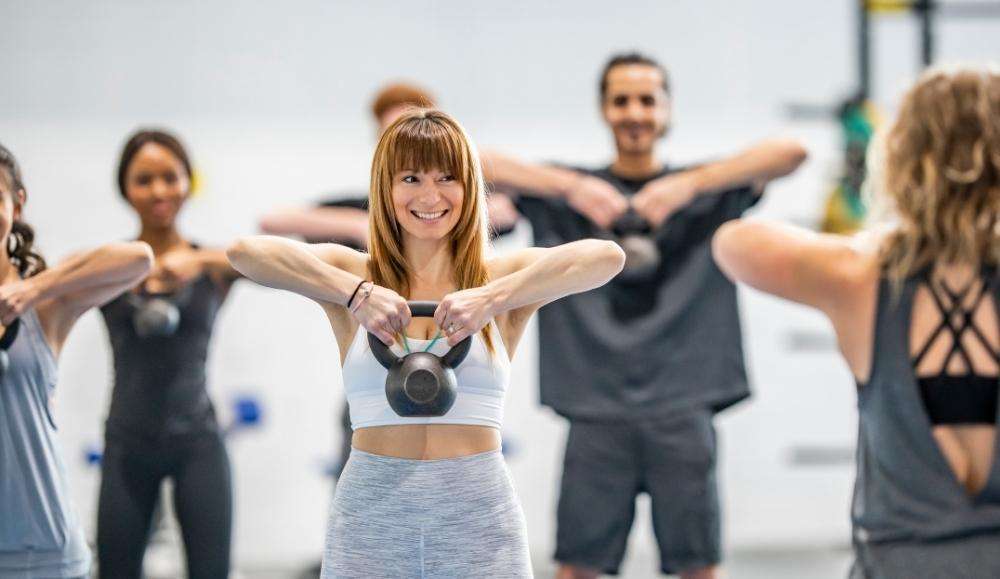 We may not be squeezing out all of the health benefits when we prioritize our physical fitness. Whether we're running, jumping, stretching, or hitting the megaformer, if we're not engaging in mindful workouts, we're missing out on all the workout has to offer. This isn't narrowed to the yoga lovers of the world, so don't stop reading just because you don't know what savasana is. Although yoga incorporates mindfulness into its practice, the same can be applied to your favorite hiit, cycle, cardio boxing, or pilates classes. How? We'll get to that. But first, why?
Samantha Roller, Kripalu yoga instructor and meditation teacher, says, "Mindfulness is woven into yoga because yoga is about living in a more present way and living with intention. Mindfulness helps us live intentionally." When it comes to the exercise element of yoga, Roller says, "Yoga is an overarching philosophy and doing yoga postures is just one aspect of that."
Aside from yoga, bringing mindfulness into your workout enhances your overall experience during and outside of the gym or studio. There's a difference between the Peloton class you take when you're distracted by your work emails coming in and the class you take when it's just you, the bike, and your favorite instructor. Sometimes you might have a workout coach who even tells you to leave all your responsibilities at the door. Your physical presence and participation is just part of the workout magic.
"Being self-aware while exercising not only enhances the effectiveness of your workout, but also allows you to be more in touch with your limits, both in knowing when to push harder and when to back down," says Brett Poniros, DC. As a chiropractor and strength and conditioning specialist, Dr. Poniros knows that being aware of your body during a workout helps prevent injuries.
Here's the how:
Turn off, silence, or put your phone out of sight for the entire workout. This will eliminate temptations to scroll Instagram or email during water breaks. 

Draw attention to your breathing and take note of when your breaths are short and shallow or long and deep. *Note that proper breathing is also a safety precaution during any workout.

Put some thought into your workout attire. Whether you like matching sets or baggy shirts and bike shorts, take a moment to think about your choice and its role in your workout.

Hydration is obviously important. Try tracking yours by starting your workout with a full water bottle and notice how much is left at the end.

Scan your body. While you perform a certain movement, take note of which muscles in your body are engaged. For example, there's more to a bicep curl than the concentric and eccentric motion of the arm. You're also grasping a dumbbell and probably tightening your core. Where else is engaged?

Set an intention. Before your workout begins, think about the purpose behind why you're there in the first place. Maybe this is the only hour you have to yourself, maybe you're training for something. Whatever it is, think about what it means for you to carve out time to exercise.
Stay Well,
Catherine at Revive
LIKE THIS CONTENT?
Subscribe to our Newsletter and our Social Media pages and get an alert when new content is available!
LOCATIONS
Stamford, CT
37 Glenbrook Road, Suite 3
Norwalk, CT
148 East Avenue, Suite 2A
FLEXIBLE HOURS
Regardless of your schedule, we can find times that work for you.
CAN'T COME INTO THE OFFICE?
CONTACT US
 (203) 693-4917