4 things college freshmen need to hear right now (from a recent graduate)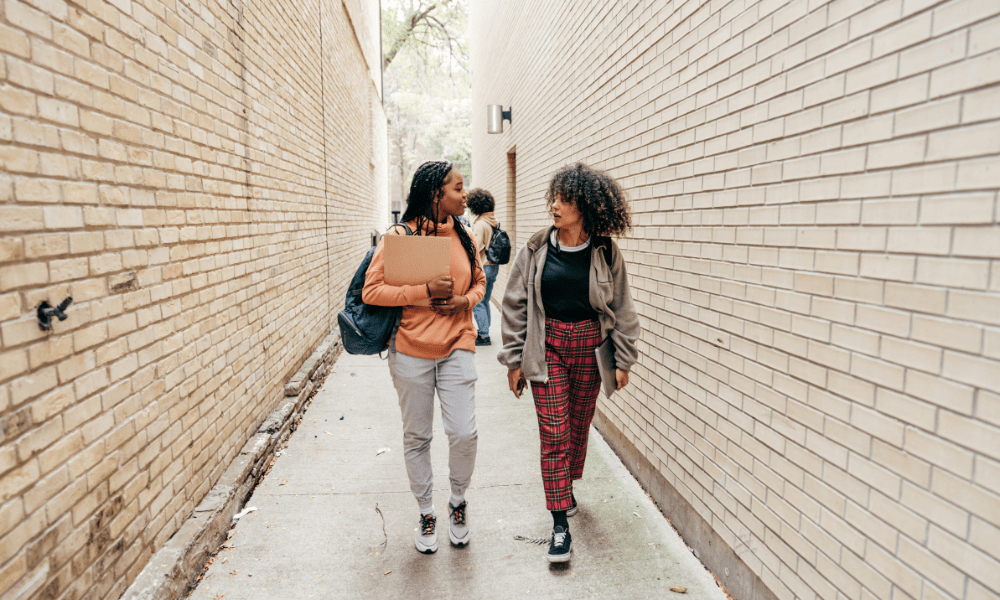 It's time to pack up your bags, buy new textbooks and meet new people, and that comes with a lot of nerves around what your actual college experience will be like. Don't worry, we all feel that way. College is the perfect time to learn new things and grow over time, but there are some things that could help you before you get to campus. Take it from me, I just graduated!
Get out of your room.

While you have to get out to go to class or eat, try to keep the downtime in your room to a minimum (at least, at first) There are a ton of activities that colleges typically organize at the beginning of the semester.

Go!

Everyone else is in your position: newly away from home and trying to make friends. When it came to studying, I would head to the library, since there were others around to help motivate me. If you're stuck in your room, you might distract yourself with your phone and scroll through TikTok for hours (

guilty

!) and miss out on creating meaningful relationships. 

Stay organized!

This may be obvious, but sometimes it's hard sticking to it. Keep a planner and a to-do list for everything. During the first week of classes, I recommend opening up all of your syllabi and writing down all of the important dates given to you (tests, projects, etc.) in your planner or calendar. This will help you plan out your to-do list week-to-week and keep you on track. You don't realize how fast time will go! After midterms, it will feel like a race to the finish line, so, if you can get some assignments done during the first two weeks of classes, do it! This will also help prevent a build-up of assignments and your professors will appreciate it when you hand in assignments early, too.

Keep in contact with your classmates. You don't have to be best friends with them or even grab Starbucks before class with them, but it's important to build some form of relationship with your classmates. Start forming group chats now or just keep a classmate's number to talk to about class projects, compare notes, or to get together and study with. You may find yourself helping each other stay on task with assignments, too. And, as the years go on and you get further into your degree, you end up in classes with the same people. I found it feeling that much more comforting to see a familiar face in each class year after year. I made most of my best friends from college by doing this so you never know what could happen! By the time you graduate, you'll also have formed a long list of people you can always connect with when it's time to find a job!

Bonus points

if you stay in contact and build a professional relationship with some of your professors. It's helpful to have someone on campus who you go to that you can trust and learn from. I attended a smaller university so it was easy for me to stay in touch with professors and go to them for help. I have remained in contact with some of them and it's nice to have professors who really believe in you! Keeping a connection with them can also help you in case you need a letter of recommendation or need help finding a job post-graduation. 

Embrace change!

Meeting new people with different mindsets is so important for your own personal growth. Moving to a new place can be scary and hard for the first year but once you get used to it, it can be a really meaningful experience! And if you are a commuter student

(like me)

you are also experiencing so many different things, since you aren't staying in the dorms, it can be harder to make friends or find your own space on campus during the day. But, this is the time to put yourself out there!
It was hard for me to adjust in the beginning. After that adjustment period, you appreciate the opportunities to learn so much about yourself and you begin to enjoy the experience as a whole. If you're off to your first semester of college, remember that all of this takes time and it doesn't happen all at once, but gradually. 
LIKE THIS CONTENT?
Subscribe to our Newsletter and our Social Media pages and get an alert when new content is available!
LOCATIONS
Stamford, CT
37 Glenbrook Road, Suite 3
Norwalk, CT
148 East Avenue, Suite 2A
FLEXIBLE HOURS
Regardless of your schedule, we can find times that work for you.
CAN'T COME INTO THE OFFICE?
CONTACT US
 (203) 693-4917