Meet Jessica! Provider of the Month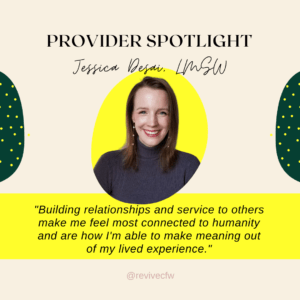 Meet our provider of the month!
Q:What do you like about being a therapist?
JD:I'm so fortunate to have the opportunity to witness clients taking time and space for themselves. As a society, we're moving towards the destigmatization of mental health care, and although there's still progress to be made, it gives me hope to see people engaging in therapy to process complex emotions and stressors.  I am consistently inspired by my clients as I bear witness to their vulnerability and strength.
Q:What do you like about working at Revive?
JD:The sense of community and culture of learning and support are what really make Revive special. Working in private practice has the potential of being isolating, but Revive is the opposite. I feel very supported and have many opportunities to learn and feel connected to my colleagues.
Q:In March, we're discussing what it is to "make meaning" out of something (an experience, a feeling, an expectation, etc.). What do you think influences how you make meaning AND what do you do when that meaning isn't "working for you" anymore (i.e. it's not aligned with your personal values/beliefs, it's creating conflict in your relationships, etc)?
JD:I believe the things that make people feel most alive and connected to the human experience are what influence meaning-making. Building relationships and service to others make me feel most connected to humanity and are how I'm able to make meaning out of my lived experience. It's also important to recognize when our meaning-making activities and behaviors might not be serving us. Personally, I notice that if I lean too much into fostering my relationships or taking care of others, I start to fall short on taking care of myself. When that happens, my social battery runs low and I feel burnt out, which affects how I show up in my relationships. It's so important to find balance, even with the aspects of our lives that help us make meaning.
Q:What is your go-to self-care?
JD:My go-to self-care activities are exercise and cooking. What I love about both is that they can be fun but also take care of my physical health, which has such a positive impact on my mental health. Right now I am loving the Peloton app- the instructors are so motivating and funny that I genuinely look forward to the workouts. With cooking, I get to engage my creative side and make some really yummy food!
Q:What books do you recommend/what are your favorites?
JD:I just started Brene Brown's Atlas of the Heart. What I like about this book is that it provides language to describe several different emotions that are part of the human experience. Sometimes we can have some really complex feelings, and having the language to describe them can be quite empowering.
Q:What music or shows do you listen to/watch?
JD:My favorite guilty pleasure is The Real Housewives franchise. Sometimes silly reality TV can be a nice distraction from life's stressors.
Stay Well,
Catherine at Revive
LIKE THIS CONTENT?
Subscribe to our Newsletter and our Social Media pages and get an alert when new content is available!
LOCATIONS
Stamford, CT
37 Glenbrook Road, Suite 3
Norwalk, CT
148 East Avenue, Suite 2A
FLEXIBLE HOURS
Regardless of your schedule, we can find times that work for you.
CAN'T COME INTO THE OFFICE?
CONTACT US
 (203) 693-4917