Meet Heather! Provider of the Month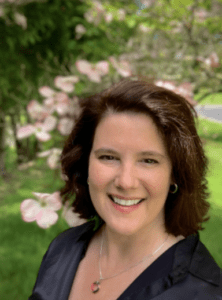 Heather earned her Master's degree in Marriage and Family Therapy from Fairfield University. Heather works with individuals, couples and families to identify core issues and patterns that may be causing stress on their mind, body, and relationships. Heather believes that life should be lived dynamically and authentically and works with her clients to become fully self-expressed in their life. Heather engages with her clients in an honest, compassionate and proactive way to create powerful and sustainable long-term life changes. LGBTQ+ affirmative.
Meet our provider of the month!
Q: What does pride mean to you?
HB:Today, Pride means being fully self expressed, having self love, and having love and respect for the journey of others.
Q: In graduate school you had a concentration in Sexual and Gender Minority Mental Health. How did it prepare you for the work you do as a therapist?
HB: Choosing this concentration has prepared me to serve the LGBTQ+ community and other marginalized communities through a wide and deep lens of social justice.  This concentration prepared me for understanding societal constructs, the human experience of being marginalized and the harm it can cause, as well as validating science and history pertaining to the experience of the LGBTQ+ community.
Q: What do you like to do during the Summer?
HB: Have my coffee outside in the morning and let my feet hit the sand and salt water as much as possible!
Q: What is your go-to self-care?
HB: Biking!  I love to bike as it reminds me of biking as a kid.  Its also great exercise because you can't just quit and call an Uber. (I may or may not have looked into this at one point and found out that most Ubers can't handle a bike). Once on the road you have to keep going to get home – a guaranteed full work out.  I also enjoy sitting outside and letting myself get very, very quiet.  I call it "getting grounded".
Q: What do you like about being a therapist?
HB: I really enjoy how being a therapist connects me to the human experience.  There is no one "right" way to live a life and I really enjoy helping people get it right for themselves.
Q: What do you like about working at Revive?
HB: The community of professional support and rapport.
Stay Well,
Catherine at Revive
LIKE THIS CONTENT?
Subscribe to our Newsletter and our Social Media pages and get an alert when new content is available!
LOCATIONS
Stamford, CT
37 Glenbrook Road, Suite 3
Norwalk, CT
148 East Avenue, Suite 2A
FLEXIBLE HOURS
Regardless of your schedule, we can find times that work for you.
CAN'T COME INTO THE OFFICE?
CONTACT US
 (203) 693-4917